Other translations - German - French - Spanish - Danish
About us...
Bikervest.eu is part of Bike-Shoppen APS, which is a Danish company. It was set up by owner Lars Jochumsen in 1989. The company was founded in Jochumsen's family home. The living room became a workshop, the garage a display area and Lars Jochumsen's wife took on the bookkeeping. The company's flourishing success quickly demanded larger premises and more employees.

In the early years, the main purpose of the shop was the purchase, sale and exchange of second-hand motorcycles. More business areas were added over the years. In 1999, attractive new facilities were taken into use. In 2003, the shop became a Yamaha motorcycle dealership. Since then, the shop has won the title of Yamaha Dealer of the Year nine times. After various extensions and enormous growth, Bike-shoppen now takes up 3,600 square metres and always has about 300 motorcycles in stock. www.bike-shoppen.dk

In 2010, Philip, Lars Jochumsen's son, set up www.bike-netshoppen.dk. The webshop is an extension of the existing shop and sells online to every country in Europe. The webshop sells clothing, spare parts and equipment for motorcycles of all brands. We try to grow our business. This has meant many travel adventures around the world. Unique friendships and strong business relationships have grown out of these adventures. We strive to find the best and most attractive products in the motorcycle industry.

In 2021, Bike-Shoppen became partial owners of www.Boosterplug.com, a business distributing BoosterPlugs to businesses and private individuals all over the world. We now have more than 80,000 satisfied customers across the globe. We are proud of being part of a global business. This has resulted in great expertise in doing business across national borders.

In 2022, the time has come to launch the latest addition to the company – www.Bikervest.eu. We have done business with First Manufacturing Company since 2010 which has been a great pleasure throughout. FirstMFG produces and sells motorcycle attire of the highest quality – real leather combined with extreme strength and durability. We are set to become an official European distributor for First Manufacturing Company.
Bikervest.eu will continuously be adding more and more products as demand grows. We sell both to private and commercial customers. Please contact us for information about your nearest stockist.
Remember to follow us on social media – find us on Facebook, Instagram and YouTube! Become part of our large biker community with events, news, competitions and much more.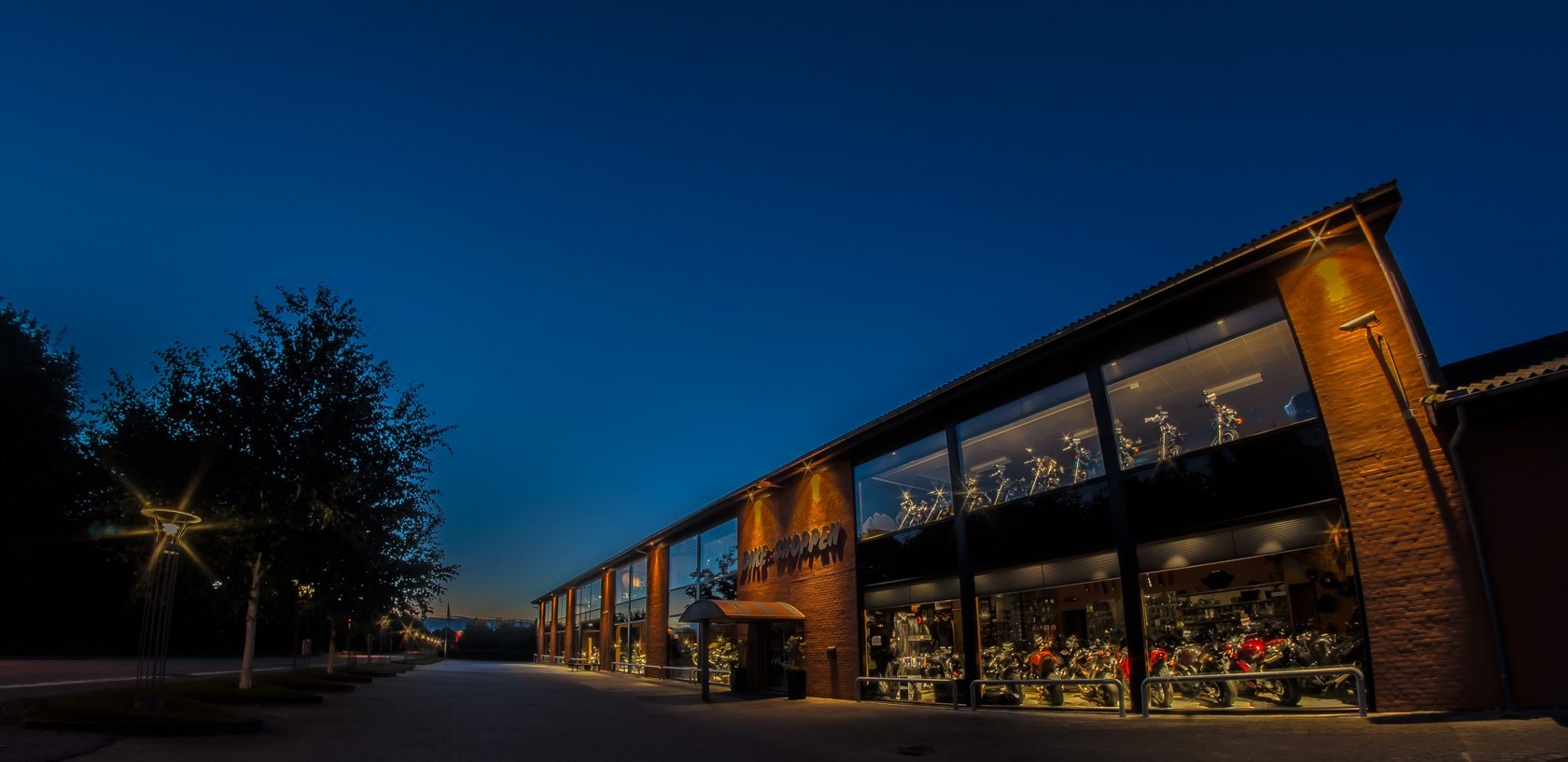 Bikervest.eu gehört zu Bike-Shoppen APS, einem dänischen Unternehmen. Es wurde 1989 von seinem Eigentümer Lars Jochumsen gegründet. Seinen Anfang nahm das Unternehmen in Jochumsens Zuhause. Das Wohnzimmer wurde zur Werkstatt, die Garage zum Showroom, und Lars Jochumsens Frau übernahm die Buchhaltung. Der dynamische Erfolg machte schnell größere Räumlichkeiten und weitere Mitarbeiter erforderlich.

In der Anfangszeit bestand der Hauptzweck des Geschäfts im Kauf, Verkauf und Tausch gebrauchter Motorräder. Im Lauf der Jahre kamen weitere Geschäftsbereiche hinzu. 1999 wurden attraktive neue Einrichtungen in Betrieb genommen. 2003 wurde das Geschäft zum Yamaha-Motorradhändler. Seither hat der Betrieb neunmal den Titel Yamaha-Händler des Jahres gewonnen. Nach mehreren Erweiterungen und enormem Wachstum erstreckt sich Bike-Shoppen jetzt über 3.600 Quadratmeter und hat immer um die 300 Motorräder auf Lager. www.bike-shoppen.dk

2010 richtete Lars Jochumsens Sohn Philip www.bike-netshoppen.dk ein. Der Webshop ist eine Erweiterung des bestehenden Ladens und verkauft online in jedes Land Europas. Er vertreibt Kleidung, Ersatzteile und Ausrüstung für Motorräder aller Marken. Wir sind immer bemüht, unser Unternehmen zu vergrößern. Das hat viele Reiseabenteuer in aller Welt mit sich gebracht. Aus diesen Abenteuern sind einzigartige Freundschaften und starke Geschäftsbeziehungen entstanden. Unser Ziel ist es, die besten und attraktivsten Produkte in der Motorradbranche ausfindig zu machen.

2021 wurde Bike-Shoppen Miteigentümer von www.Boosterplug.com, einem Unternehmen, das BoosterPlugs an Firmen und Privatpersonen in aller Welt vertreibt. Jetzt haben wir über 80.000 zufriedene Kunden in aller Herren Länder. Wir sind stolz darauf, Teil eines globalen Unternehmens zu sein. Dadurch haben wir viel Know-how im grenzüberschreitenden Handel gewonnen.

2022 ist es an der Zeit, die neueste Ergänzung des Unternehmens auf den Weg zu bringen – www.Bikervest.eu. Seit 2010 haben wir geschäftliche Beziehungen zu First Manufacturing Company, was uns durchweg viel Freude bereitet hat. FirstMFG produziert und verkauft Motorradbekleidung höchster Qualität – echtes Leder in Kombination mit extremer Festigkeit und Langlebigkeit. Wir werden offizieller europäischer Händler für First Manufacturing Company sein.
Bikervest.eu wird seine Produktpalette der wachsenden Nachfrage entsprechend fortlaufend vergrößern. Wir verkaufen sowohl an Privatkunden als auch an gewerbliche Kunden. Nehmen Sie Kontakt zu uns auf, und wir informieren Sie gern über Fachhändler in Ihrer Nähe.
Vergessen Sie nicht, uns in den sozialen Netzwerken zu folgen – Sie finden uns auf Facebook, Instagram und YouTube! Werden Sie Teil unserer großen Biker-Community mit Veranstaltungen, Neuigkeiten, Wettbewerben und vielem mehr.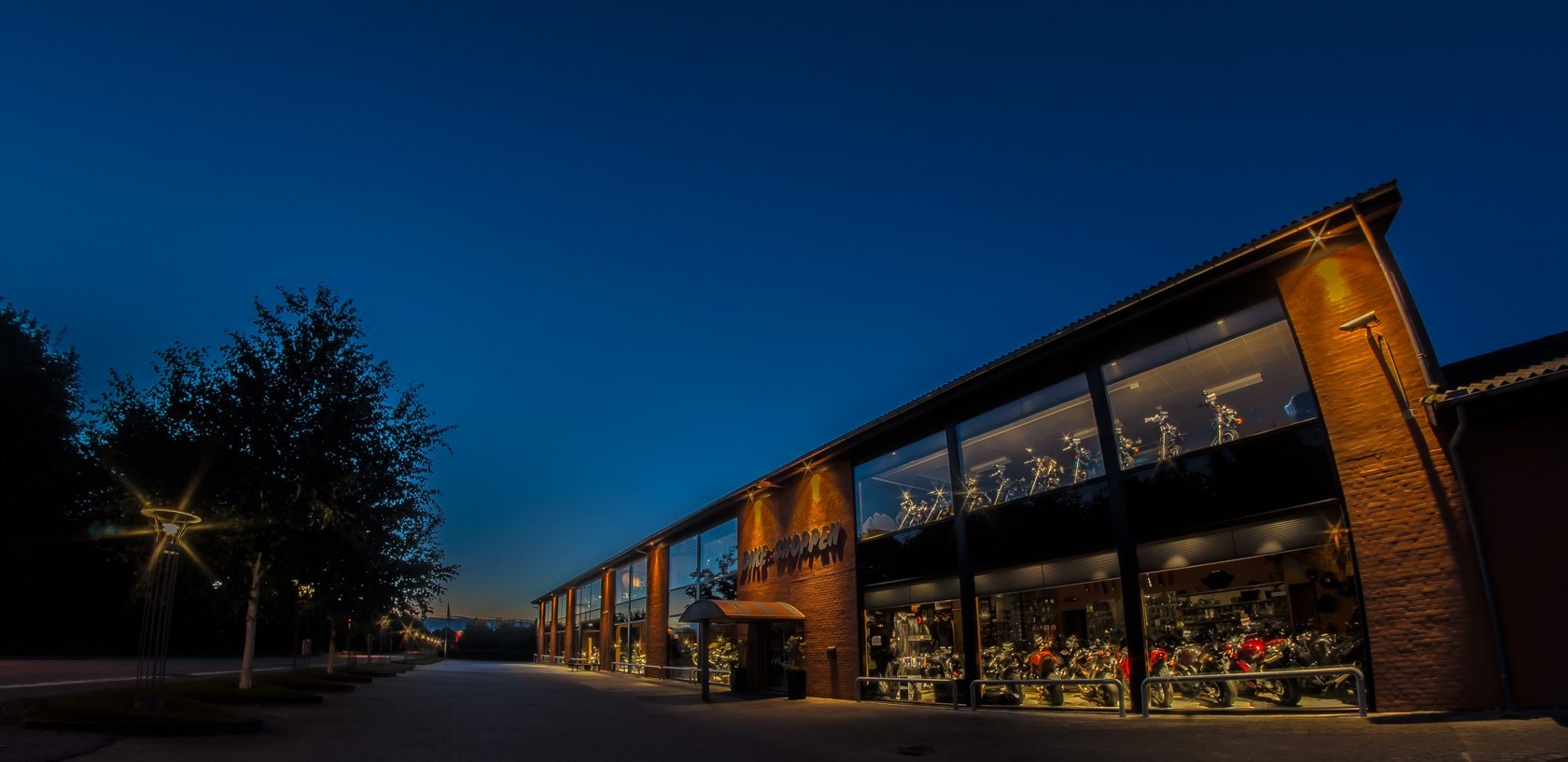 Bikervest.eu fait partie de Bike-Shoppen APS, une entreprise danoise. Elle fut créée par le propriétaire Lars Jochumsen en 1989. L'entreprise fut fondée dans la maison familiale de Jochumsen. Le salon était devenu un atelier, le garage une zone d'exposition et l'épouse de Lars Jochumsen se chargeait de la comptabilité. Le succès florissant de l'entreprise exigea rapidement des locaux plus grands et davantage d'employés.

Dans les premières années, le but principal du magasin était l'achat, la vente et l'échange de motos d'occasion. D'autres domaines d'activité furent ajoutés au fil des ans. En 1999, de nouvelles installations attrayantes ont été mises en service. En 2003, le magasin est devenu un concessionnaire de motos Yamaha. Depuis lors, le magasin a remporté neuf fois le titre de concessionnaire Yamaha de l'année. Après diverses extensions et une croissance énorme, Bike-shoppen occupe désormais 3 600 mètres carrés et dispose toujours d'environ 300 motos en stock. www.bike-shoppen.dk

En 2010, Philip, le fils de Lars Jochumsen, créa www.bike-netshoppen.dk. La boutique en ligne est une extension du magasin existant et vend en ligne dans tous les pays d'Europe. La boutique en ligne vend des vêtements, des pièces détachées et des équipements pour motos de toutes marques. Nous essayons de développer notre entreprise. Cela a impliqué de nombreuses aventures de voyage dans le monde entier. Des amitiés uniques et de solides relations d'affaires sont nées de ces aventures. Nous nous efforçons de trouver les produits les meilleurs et les plus attrayants de l'industrie de la moto.

En 2021, Bike-Shoppen est devenu propriétaire partiel de www.Boosterplug.com, une entreprise distribuant des BoosterPlug aux entreprises et aux particuliers dans le monde entier. Nous comptons désormais plus de 80 000 clients satisfaits à travers le monde. Nous sommes fiers de faire partie d'une entreprise mondiale. Cela s'est traduit par une grande expertise dans la conduite des affaires au-delà des frontières nationales.

En 2022, le moment est venu de lancer le dernier-né de l'entreprise - www.Bikervest.eu. Nous faisons affaire avec First Manufacturing Company depuis 2010, et c'est un plaisir immense qui ne se ternit pas. FirstMFG produit et vend des vêtements de moto de la plus haute qualité - du cuir véritable combiné à une résistance et une durabilité extrêmes. Nous sommes en passe de devenir un distributeur européen officiel de First Manufacturing Company.
Bikervest.eu ajoutera en permanence de plus en plus de produits à mesure que la demande augmente. Nous vendons aussi bien à des clients privés qu'à des clients commerciaux. N'hésitez pas à nous contacter pour obtenir des informations sur votre revendeur le plus proche.
N'oubliez pas de nous suivre sur les réseaux sociaux – retrouvez-nous sur Facebook, Instagram et YouTube ! Rejoignez notre grande communauté de motards avec des événements, des actualités, des compétitions et bien plus encore.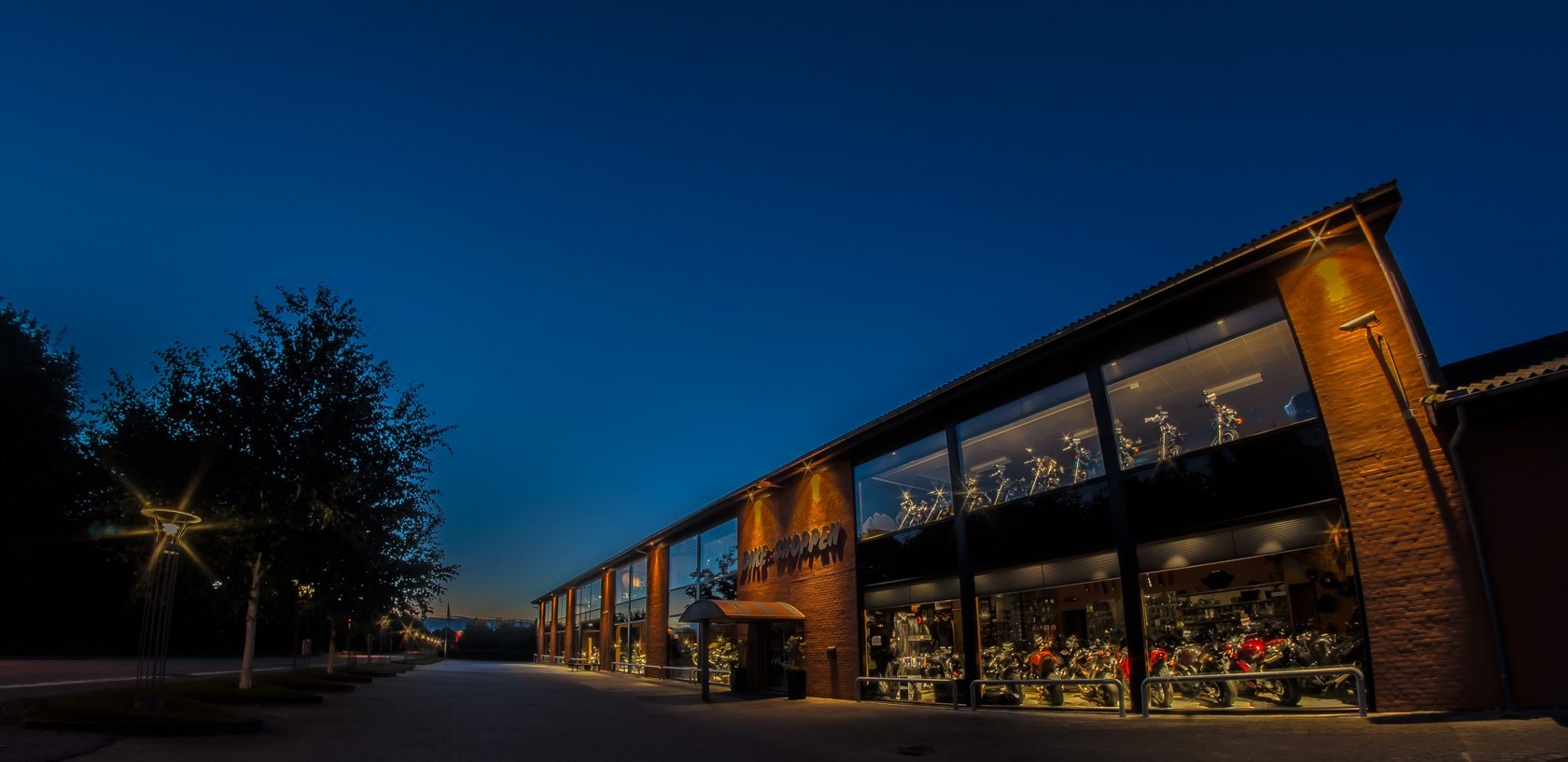 Bikervest.eu forma parte de la empresa danesa Bike-Shoppen APS. Esta compañía fue fundada por su propietario Lars Jochumsen en el año 1989. La fundación de la empresa se produjo en el hogar de la familia Jochumsen. El salón comedor se convirtió en un taller, el garaje pasó a ser una zona de visualización mientras que la esposa de Lars Jochumsen se encargó de la contabilidad de la empresa. El floreciente éxito de la empresa exigió rápidamente unas instalaciones más grandes y más empleados.

En los primeros años, el objetivo principal de la tienda era la compra, la venta y el intercambio de motocicletas de segunda mano. A lo largo de los años se fueron añadiendo más áreas de negocio. En el año1999, se inauguraron nuevas y más atractivas instalaciones. En el año 2003, la tienda pasó a ser un concesionario de motocicletas de la marca Yamaha. Desde entonces, la tienda ha ganado el título de Concesionario Yamaha del Año en nueve ocasiones. Tras varias ampliaciones y un enorme crecimiento de la empresa, Bike-shoppen ocupa actualmente 3.600 metros cuadrados y conserva siempre unas 300 motos en sus existencias. www.bike-shoppen.dk

En el año 2010, Philip, el hijo de Lars Jochumsen, estableció el portal de Internet www.bike-netshoppen.dk. La tienda virtual es una ampliación de la tienda existente y se dedica a la venta en línea en todos los países de Europa. La tienda virtual en Internet se dedica a la venta de ropas, repuestos y equipamientos para motos de todas las marcas. Nuestro objetivo es aumentar nuestro negocio. Dicha finalidad ha supuesto un sinfín de aventuras vividas en todo el mundo. De estas aventuras han surgido amistades únicas y sólidas relaciones comerciales. Nos esforzamos por encontrar los mejores y más atractivos productos de la industria de las motocicletas.

En el año 2021, Bike-Shoppen se convirtió en propietario parcial de www.Boosterplug.com, una empresa que distribuye "Booster Plugs" a compañías y particulares de todo el mundo. Actualmente, tenemos más de 80.000 clientes satisfechos en todo el planeta. Y nos sentimos orgullosos de formar parte de un negocio internacional. Esto ha dado lugar a una gran experiencia en la realización de negocios a través de las fronteras nacionales.

En 2022, habrá llegado la hora de poner en marcha la última adquisición de nuestra empresa, el portal:www.Bikervest.eu. Desde el año 2010, hemos hecho negocios con la empresa First Manufacturing Company, lo que ha supuesto unas relaciones altamente satisfactorias en todo momento. La empresa FirstMFG fabrica y comercializa atuendos para motociclistas de la más alta calidad: cuero auténtico combinado con las propiedades de extrema resistencia y de larga vida útil. Estamos a punto de convertirnos en distribuidor oficial en Europa de la empresa First Manufacturing Company.
El portal Bikervest.eu añadirá continuamente más y más productos a medida que crezca la demanda. Nuestra empresa realiza ventas tanto a clientes privados como a compañías comerciales. Póngase en contacto con nosotros para obtener información sobre su distribuidor más cercano.
No olvide seguirnos en las redes sociales: ¡Puede encontrarnos en Facebook, Instagram y YouTube! No dude en formar parte de nuestra gran comunidad motera con eventos, noticias, competiciones y mucho más.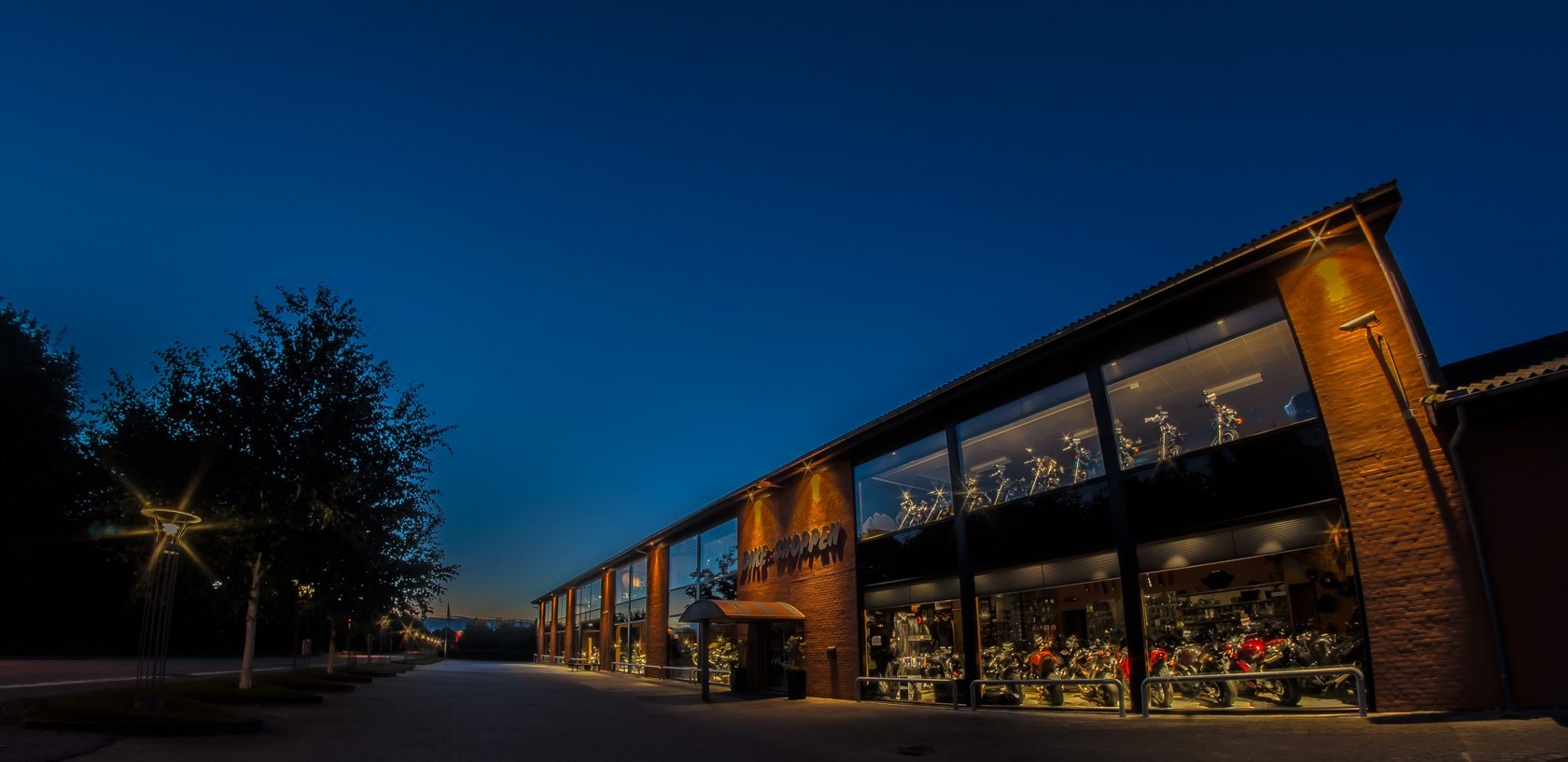 Bikervest.eu er en del af Bike-Shoppen APS, som er en dansk virksomhed. Den blev grundlagt af indehaver Lars Jochumsen i 1989. Familiens eget hjem skabte rammerne. Stuen blev til værksted, garagen blev til udstillingslokale og hustruen blev bogholder. Den blomstrende succes krævede hurtigt større lokaler og flere medarbejdere.

Butikkens hovedformål i de første år var køb, salg og bytte af brugte motorcykler. Igennem tiden er der bygget flere lag på. I 1999 blev nye flotte lokaler taget i brug. I 2003 blev forretningen forhandler af Yamaha motorcykler, siden da er titlen som årets Yamaha forhandler vundet hele 9 gange. Bike-shoppen er efter tilbygninger og massivt vokseværk hele 3600 kvm og har altid omkring 300 motorcykler på lager. www.bike-shoppen.dk

I 2010 skabte sønnen Philip Jochumsen www.bike-netshoppen.dk. Webshoppen er en forlængelse af den eksisterende butik med online salg til hele Europa. Dette er salg af beklædning, reservedele og udstyr til motorcykler i alle mærker. Vi forsøger, at gøde det græs vi træder. Dette har budt på mange rejseeventyr ude i den store verden. Her er der opstået unikke venskaber og stærke forretningsforbindelser. Vi bestræber os på, at finde de bedste og mest attraktive produkter i mc-branchen.

I 2021 blev Bike-Shoppen en del af ejerkredsen i www.Boosterplug.com, en virksomhed der distribuerer Boosterplugs ud til forretninger og private i hele verden. Vi har nu over 80.000 glade kunder verden over. Vi er stolte af, at være del af en verdensomspændende virksomhed. Dette har medført et godt kendskab til handel på tværs af landegrænserne.

I 2022 er tiden inde til at søsætte det nyeste skud på stammen – www.Bikervest.eu. Vi har siden 2010 handlet med First Manufacturing Company, hvilket har været en fornøjelse hele vejen igennem. FirstMFG producerer og sælger motorcykel tøj i højeste kvalitet - ægte læder og i ekstrem stærk kvalitet. Vi vil bestride opgaven som værende officiel Europæisk distributør for First Manufacturing Company.
Bikervest.eu vil løbende vokse med flere og flere produkter i samspil med efterspørgslen. Vi sælger til både private og erhvervsdrivende. Skriv til os for at finde nærmeste forhandler.
Husk at følge os på de sociale medier, vi findes både på Facebook, Instagram og YouTube! – Der kan du blive del af vores store biker-fællesskab med arrangementer, nyheder, konkurrencer og meget mere.